There are signs the ecological wonder has started to recover, but it remains in a precarious place.
Utah's phenomenal, record-breaking winter has already given the Great Salt Lake a boost, but it will take a few more decent winters before it reaches a safe and sustainable elevation.
The lake is up by about 3.3 feet since it bottomed out at record low of 4,188.5 feet above sea level in November. It now sits at 4,191.8 feet, and state resource managers expect it will rise another three feet by the time runoff season ends. The lake's optimal elevation, however, is at about 4,200 feet. That gives it enough wiggle room to rise and fall, like shallow terminal lakes do, without posing a threat to its ecosystem, industries and surrounding cities.
"We get a big sigh of relief for this year," said Ben Stireman, sovereign lands program administrator with the Division of Forestry, Fire and State Lakes, which manages the lakebed. "[But] it's really important to realize one good year isn't going to solve our problems."
An impressive 1.4 million acre-feet have flowed, dripped or seeped into the lake so far in the form of streams, direct precipitation and groundwater since November.
"We've seen more water coming into the lake than the last two years combined," Stireman said.
That's good news for the millions of waterfowl and shorebirds the lake supports.
"So far, with spring migration, I've seen more birds this year than I've seen in quite a while," said John Luft, program manager for the state's Great Salt Lake Ecosystem Program. "It's probably because they've got water to actually sit on."
Salinity levels have dropped from 19% last year — which all but wiped out the lake's brine flies — to 16% so far.
"We're getting a good hatch of brine shrimp right now," Luft said. "It should be, hopefully, more normal this year."
Those are all positive signs the lake is recovering, but an elevation matrix developed by state scientists shows how much more water the lake needs to be out of the red.
Even if the lake rises to 4,195 feet this year as projected, it still means the lake's brine shrimp and brine flies face adverse conditions, which are key species in the lake's food web. Many of its "islands" will remain landlocked or easily accessed by shallow water, which is bad for nesting birds. It also is not ideal for recreation, and mineral companies will still struggle to access the brine they need. Rescue boats will have difficulty launching.
State scientists are also working to better understand the ongoing threat exposed lakebed poses to air quality as it dries to dust.
Every inch of water helps, Stireman said, but "until the lake gets well above where we're at, we'll probably see dust that comes from the lake."
Utah lawmakers appropriated $232,000 in one-time funds and $44,000 ongoing to help state regulators track dust blowing off the lake, along with the toxins contained inside the dust.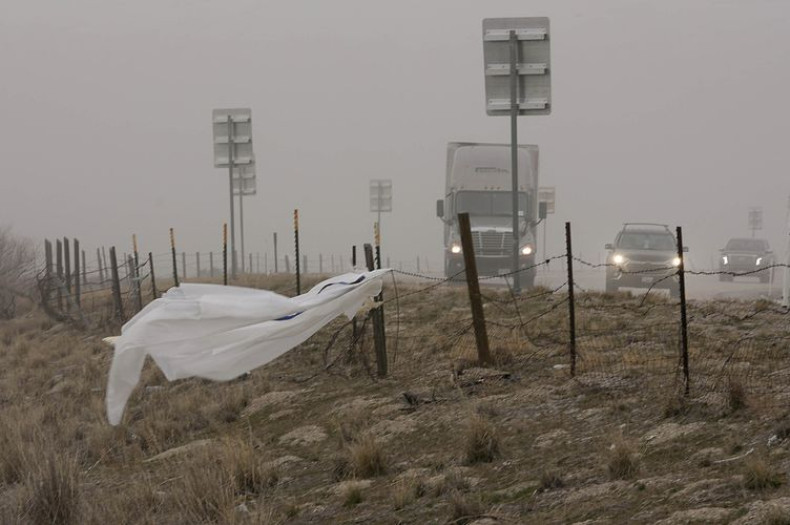 (Francisco Kjolseth | The Salt Lake Tribune) Strong winds blow dust across Interstate 80 near the south shore of the Great Salt Lake on Wednesday, March 29, 2023.
Officials with the Department of Environmental Quality are currently setting up that equipment at four sites near the Great Salt Lake's shores, including in Erda, at the new state prison site, near the Antelope Island causeway and in Ogden. They are also adding more filters to the existing air quality monitoring station at Hawthorne Elementary School in Salt Lake City to detect blowing dust.
"We're encouraged by the lake levels rising," said Bryce Bird, director of the Division of Air Quality. "Hopefully that will mitigate some of the recently exposed areas we saw last year."
The surge of water isn't benefitting all parts of the lake equally. Officials raised a berm in the railroad causeway bisecting the lake in July and again in February in an effort to stave off rising salinity levels in the south half. The north half is essentially cut off from any of the lake's tributary rivers. It has become so hypersaline few creatures survive other than salt-loving microorganisms that turn the water pink.
A large colony of pelicans nest on Gunnison Island in the north arm, however, seeking it out for its solitude and isolation from predators. But low lake levels have created land bridges and put baby birds at risk.
Still, lake experts say severing the lake in two was necessary to keep at least part of it alive.
"I actually thought we'd just be monitoring this [ecological] collapse this year," Luft said, "but installation of that berm was a huge benefit."
And water will spill over the causeway breach once the lake rises a few more inches to 4,192 feet, sending a much-needed pulse to the northern half, which currently sits about two feet lower than the rest of the lake.
"That water is going to start washing over with this spring runoff," Luft said. "Basically, it's going to equilibrate."
But once the spring swell slows, the shoreline will likely recede again. The Great Salt Lake typically loses 2 million acre-feet each year to evaporation. Water managers have called on Utahns to continue ripping out turf and cutting back their consumption this coming season to ensure the lake someday reaches a healthy level.
"Waiting to water until our landscapes really need it and keeping our outdoor water use low this summer is more important than ever," Weber Basin Water Conservancy District general manager Scott Paxman said in a news release. "The less we use, the more we store and support the Great Salt Lake."