NEGEV DESERT, Israel — A group of Utah Mormon Republican lawmakers walk into a Jewish socialist kibbutz in the middle of the desert.
It's not a joke.
A delegation of Utah water officials, state lawmakers and other policy stakeholders ventured into the Negev Desert to learn about agriculture in some of the planet's harshest conditions. Members of the kibbutz welcomed them with open arms, inviting them to lunch and showing them around their greenhouses.
"There's a term in Hebrew called 'tikkun olam.' Which means preparing the world, making the world a better place," Jared White, who serves on Ramat HaNegev's Regional Council, told the delegation. "It's a basic Jewish value."
A kibbutz is a cooperative community, where many things are shared. Some kibbutzim have similarities to the early-Mormon concept of a "United Order," where everything is put into a common pot and it is doled out according to "needs and wants."
"You have to put in everything that you can and you only take out what you need. There's about 270 kibbutz still left in Israel," White said. "We're one of the last kibbutz that is still social in that sense, a socialism style of kibbutz where we don't ever see my paycheck and I don't own my house."
White described it as a "beautiful life" for him and his family. Once people are accepted into it, you are essentially a "shareholder of the company." They have varied business interests, including agricultural research.
"We're teaching our farmers how to grow different crops for food security, for the entire world. The knowledge is free for anyone wanting to come and to learn and to explore and to see how they can do it," White said. "We grow everything here from 75% of the cherry tomatoes we eat in Israel, 80% of the olives you eat, 25% of the milk you drink."
Decreasing water usage, increasing profits
Dr. Yuval Kaye of the Ramat Negev Research and Development Center escorted the Utah delegation around some of the greenhouses where tomatoes and eggplants were being grown in vertical gardens using less water than traditional farming operations, though it does come with some higher energy and upfront costs.
"We are trying to help our farmers to be, in an applied science, to be more profitable. This is a connection between the R&D station, the farmers and even academia and industry," he said.
The delegation walked into a greenhouse where plump, ripe strawberries were growing in the middle of the Negev Desert. They were suspended from the ceiling, being fed by drip irrigation systems. The experiment was testing different plant varieties, fertilization and water use.
"It is one of many experiments that we are doing in order to find solutions to use the water more than once," Kaye told them.
Teresa Wilhelmsen, Utah State Engineer and director of the Division of Water Rights, was impressed.
"In the Negev Desert, I think they get like an inch of water a year or something like that. It's pretty minimal," she said. "And they had this huge strawberry farm, which were super delicious, the strawberries. But they really honed in on how to maximize that supply of water that they had."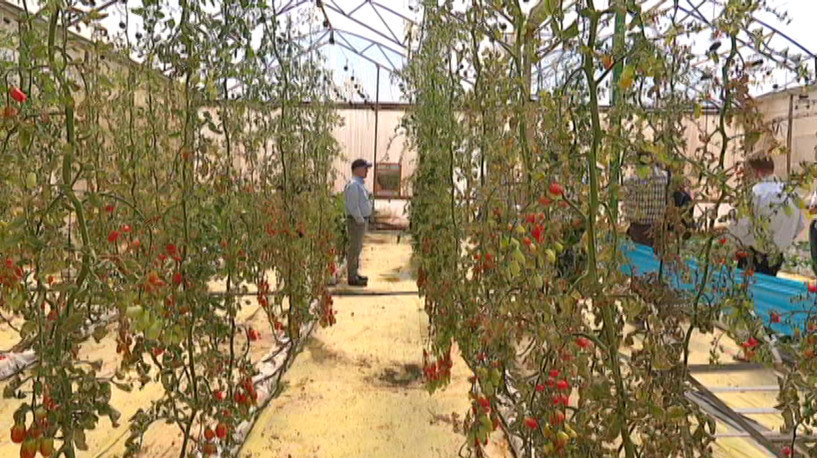 Utah Dept. of Agriculture & Food Commissioner Craig Buttars stands in a vertical garden at the Ramat HaNegev Research and Development Center in the Negev Desert on March 28, 2023. (Ben Winslow / FOX 13 News)
'More advanced than we are'
Craig Buttars, commissioner for Utah's Department of Agriculture & Food, said he had heard about Israel's innovations in crop growing.
"They're advanced in some aspects of agriculture, more advanced than we are here," he said of Utah.
Asked about labor, Kaye acknowledged it is one of Israel's biggest issues facing agriculture.
"So first we are developing robotics," he replied.
Across Israel, academic and research institutions are conducting experiments on types of crops that can use less water and still yield a good crop for people to eat. At Ben-Gurion University of the Negev, the delegation looked at experiments involving growing wine-making grapes in the desert. They were starting to bottle the wine for sale.
The delegation toured an experimental farm run by the Volcani Center that is exploring new types of wheat varieties that have a shorter growing season, saving water. They also looked at an experiment to capture rainwater from rooftops. Outside Lake Kinneret (also known as the Sea of Galilee) members of the delegation ventured through banana plants, mango trees and blueberry bushes underneath net houses that help with pests and temperature controls.
"They've taken good data, good science and integrated it into the farmer's field," said Rep. Casey Snider, R-Paradise, who co-chairs the Utah State Legislature's Great Salt Lake Caucus and is a farmer himself.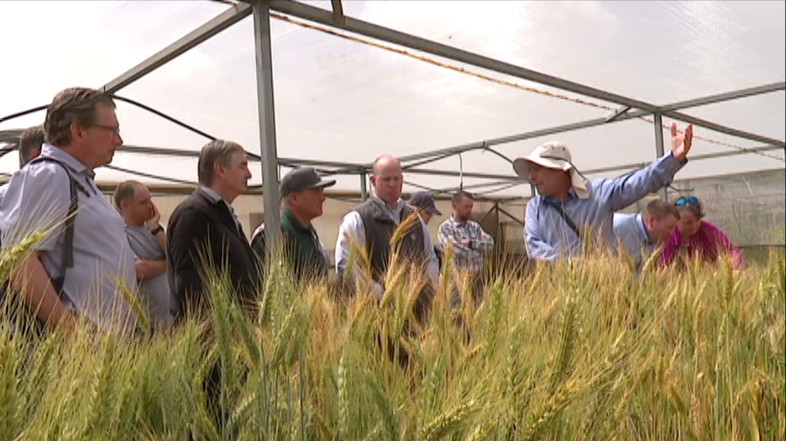 Roi Ben-David, a research scientist at the Volcani Institute (in hat) shows new types of wheat being researched to Utah's delegation on March 29, 2023. (Ben Winslow / FOX 13 News)
How to grow the much-maligned alfalfa
But one thing conspicuously missing in Israel was sprinkler systems to water crops. Like Utah, Israel's top water user is agriculture (but farming uses only 56% of water in Israel compared to 70% in Utah). In addition to using wastewater for crops, Israel also relies heavily on drip irrigation. There are still some crops watered with sprinkler systems, but drip irrigation is used everywhere from flower beds to agricultural crops.
Alfalfa, a much-maligned crop in Utah for how much water it consumes, is grown in Israel, too. But it's watered with drip irrigation, resulting in a dramatic savings of water — as much as 50% less water compared to flood irrigation and pivot sprinkler systems.
By comparison, Utah farmers who grow alfalfa largely use flood irrigation and pivot sprinkler systems.
"They actually plant alfalfa with a subsurface drip irrigation system," Buttars said. "All of the irrigation water that goes on their alfalfa is under the surface. So there's no [evapotranspiration] at all and also any nutrients that they need to provide for the plants are also provided through the drip system." Evapotranspiration is a way of understanding the loss of water from plants and the soil.
Utah's delegation toured Netafim, a world-renowned drip irrigation company (also originally founded by Israeli kibbutzim in the 1960s) that commands a significant share of the market for such products and generates revenues of over $1 billion. Netafim representatives showed them different drip systems that help to grow plants with less water.
"Drip is the technology that can make the difference in agriculture between what you are doing today versus what you can do if you do adopt drip," said Abed Marsarwa, Netafim's vice-president of products.
The overwhelming presence of drip irrigation systems wasn't lost on Snider.
"There isn't an inch of landscape in Israel that isn't watered by drip. Most of the farms in this country are irrigated by drip. Flood irrigation doesn't exist at all, and sprinkler irrigation is slowly phasing out," he said.
Snider said it is something Utah really ought to look at implementing.
"As I look at water in our state," he said, "how we use water in our state, that technology — if I can bring home nothing else — is something I think we've got to integrate more into our state."