Layton shoreline preserve showcases 40-acre wetlands project years in the making
A red vintage 1950 McCormick Farmall tractor in cherry condition has been loaded up with hay on its trailer, ferrying guests to a spot at the Great Salt Lake Shorelands Preserve in Layton to see the latest project to help both wildlife and the lake's water quality.
To a casual observer, the area is full of mud and grasses and echoes of the work that has been underway for months, part of a project that has been years in the making.
The wind sends ripples across a pool of standing water after a morning of brief rain followed by the sun breaking through the clouds.
In the distance you can hear the call of multiple species of birds, and Janice Gardner, conservation ecologist with the Sageland Collaborative, said that just recently, the 2-ounce bobolink, a member of the blackbird family, arrived at the preserve after a 6,000-mile journey from Argentina. Here, this tiny bird that sings a sound like R2-D2 from "Star Wars," will nest, raise its young, and when its parental duties are complete, it will make the 6,000-mile trek back to Argentina.
"This is the most important habitat for wildlife and its value is exponential in Utah," Gardner said.
"These birds from Chile and Argentina know how to find these wetlands, on this planet," she said, a look of awe moving across her face. "These wetlands are the sponge that are calming the floodwaters."
The Freeport Drain
This is what happens when marbles bounce around in the consciousness of Chris Brown, who is the stewardship director of The Nature Conservancy in Utah.
The Freeport Drain of 40 acres of wetlands, celebrated with a ribbon-cutting ceremony Wednesday, is the brainchild of Brown and Mike Kolendrianos, manager of the Great Salt Lake Shorelands Preserve.
Brown said it was Kolendrianos' idea to apply for some grant money from the Utah Department of Natural Resources for the Freeport Drain.
Even with the marbles bouncing around, Brown said he was skeptical because The Nature Conservancy rarely gets those kinds of grants. But the money came through, along with partners that include Big West Oil, Chevron, and others such as Davis County. An engineering firm, Equinox, also stepped up.
"This is a big day," Brown said. "This is something we have always wanted to do."
The water from the Freeport Drain used to just shoot directly to the Great Salt Lake. Now, it makes its way through these wetlands, which is nature's purifier, removing metals, debris and garbage.
"The drain is a gift that keeps on giving," Brown explained. "So I think it's gonna be a real, great asset for that. So it just keeps giving life to the preserve, it's bringing birds but it also brings gifts."
He held up a small stuffed gorilla toy and an Elmo figurine he presented to a pair of guests.
"One thing we get out here is a lot of stormwater and we used to get a lot of tailwater from agriculture," he said. "But the farms are starting to go away so we're losing a lot of that free water we used to get back in the day when they would irrigate the crops. So we looked at ways to try and store some of the stormwater again."
Brown added these wetland projects are not about boosting the ailing levels of the lake.
"Don't get me wrong, we're not trying to offset the loss of the Great Salt Lake. We're trying to create something no matter what size it is to kind of create some stable area, some stable habitat for some of these birds when they come through along the lake."
The wetlands are nature's great cleanser, putting a scrub brush to urban runoff to rid it of many of its impurities, boosting the water quality of the Great Salt Lake.
"The hallmarks of this site are foresight, generosity and persistence," explained Dave Livermore, Utah director of The Nature Conservancy.
The first land purchase for the preserve happened in 1984 with an eye for not only helping the tens of thousands of birds that rest here as part of the route along the Pacific Flyway, but for improving quality life for Utah residents with open space.
Over the years, 61 transactions have been stitched together and $27 million have been invested to form the 4,400-acre preserve, a chunk of land on the eastern shores of the Great Salt Lake.
"We are not preserving nature from people but for people and all living things," Livermore said.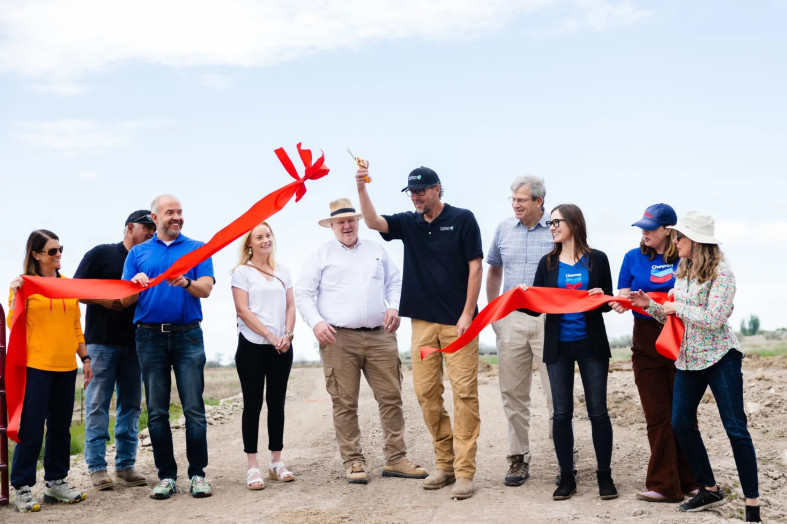 New wetlands are seen following the completion of the Freeport Drain project at the Great Salt Lake Shorelands Preserve in Layton on Wednesday, May 17, 2023. Ryan Sun, Deseret News
Utah's Central Park
Livermore recalled a conversation he had years ago with a Davis County commissioner about his vision for a preserve and why the organization wanted to preserve something that, at the time, was so far away from any development.
He said the commissioner told him, "Oh, you're building the Central Park of Davis County."
Livermore said that is true in some fashion.
"It's not quite a good analogy because this is a nature preserve, not a recreational facility. But nonetheless, the same way that Central Park is about the quality of life and enriches people in New York, it also helps the economy. I'd like to argue that the shoreland preserve has preserved the quality of life in Davis County, around the lake and also the economy."
Preserving the preserve has not been without its challenges. Development is all around, there is money in precious demand to build up these wetlands and stabilize uplands for the birds who visit. It's a far out place many residents may not know about, and some may simply pass by with a critical eye to the acres upon acres of space that appear devoid of "usable" land in this modern area.
But Davis County Commissioner Randy Elliott said the preserve is critical to not only the county, but the state as a bastion of preserved land to be enjoyed for years to come.
"We know that we have a lot of growth coming to Davis County and we knew that growth was coming and so we, Davis County, are welcome to help in any way we can. We only have 11,000 developable acres left in Davis County," he said. "We're the second smallest county in the state, but we have one of the largest populations and so we don't have much land left. Being able to preserve that is tremendous."
That commitment is ingrained in him as a Farmington native who comes from a tradition of ranching and farming.
"Whatever we can do we will continue to do that in Davis County as long as I'm in office. We will continue to do that because I love this and this is what brings people out to enjoy nature and connect again with Mother Earth because it is a beautiful, beautiful thing that we have here to enjoy," he said.