SALT LAKE CITY — As Utahns look for ways to save the shrinking Great Salt Lake, there are two other salt lakes to our west that we can look to as examples of what to do and what not to do.
The Great Salt Lake Collaborative recently sent a team of Utah journalists to California to report on the failures and successes of Owens Lake and Mono Lake in the Eastern Sierra Nevada.
Thirteen years of siphoning water to Los Angeles by the city's Department of Water and Power left Owens Lake completely dry by 1926. In the decades that followed, windstorms whipped up the dry, dusty lake bed which was laden with harmful metals. Forty thousand people who lived in the Owens Valley suffered health effects from the dust storms.
"It would block out the sun," said Kathy Jefferson Bancroft, a lifelong resident of the Owens Valley. "It was like really bad forest fires."
Another long-time valley resident, Chris Langley, taught in a local school.
"They were so severe that we had to stop the kids playing outside," he said. "I don't know what it did to their lungs, but I'm sure it wasn't good for them."
Before it was drained, Owens Lake covered 100 square miles. In comparison, the Great Salt Lake currently covers 900 square miles. After losing half its volume, there's now some 800 square miles of the Great Salt Lake lakebed that is already exposed to the elements. At eight times the size of the lakebed Owens Lake left behind, it's possible the disaster looming from the dying Great Salt Lake could be that much bigger as well.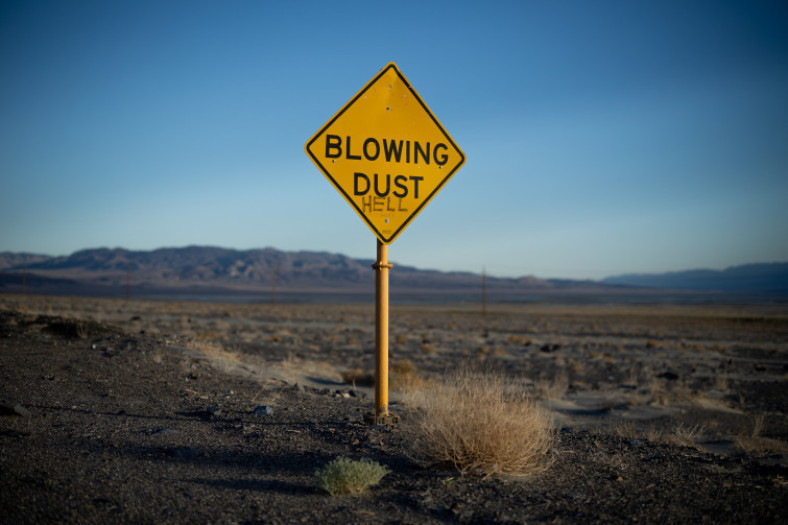 A sign warning of blowing dust has been vandalized near the small community of Keeler, which sits on the northwest side of the dry lakebed of Owens Lake in Inyo County, California, on Thursday, Aug. 11, 2022. (Spenser Heaps/Deseret News)
"Once you get to where you're at, where you have uncontrolled surfaces and an environmental public health issue, in remedying that, it's not a simple solution and it's very expensive," said Great Basin Unified Air Pollution Control District Officer Phill Kiddoo. "And the bigger the area, the bigger the problem, the more challenging it is to fix it."
After 20 years of mitigation, air quality managers with the Los Angeles Department of Water and Power say they've been able to reduce dust pollution from Owens Lake by 99%. It's an ongoing project with a massive price tag. Californians have already paid $2.5 billion to try and fix the problem.
"There's no end in sight," said Paul Liu, who oversees the dust mitigation program for LADWP. "There's no limitation to what our ratepayers have to be responsible for."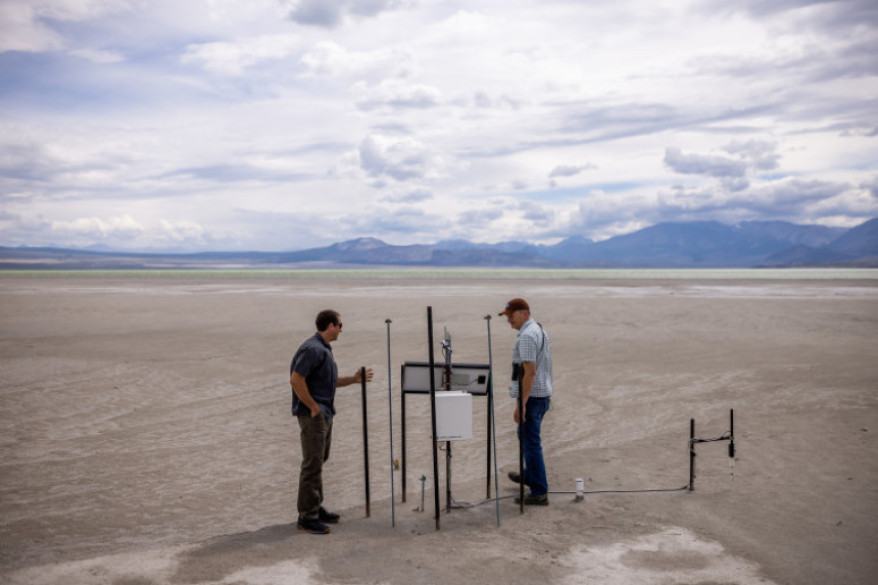 Phill Kiddoo, air pollution control officer for the Great Basin Unified Air Pollution Control District, and Geoffrey McQuilkin, executive director of the Mono Lake Committee, check out an air quality monitor while taking journalists on a tour of the north shore of Mono Lake in Mono County, California, on Tuesday, Aug. 9, 2022. (Spenser Heaps/Deseret News)
California has seen some success in its attempt to save another salty lake. Mono Lake sits 150 miles north of Owens Lake. It was headed in the same direction in 1941, as river water was again diverted to supply the city of Los Angeles. Over the next 40 years, Mono Lake's water levels dropped 45 feet. The lake lost half its volume and doubled in salinity. Land bridges formed, creating paths for predators to reach formerly protected bird populations. Air quality got worse as the dry lakebed was exposed.
Sound familiar?
Advocates took action, however, and through a first-of-its-kind legal ruling, the California Superior Court affirmed the lake's right to exist, and Los Angeles was forced to scale back water diversions until Mono Lake's waters returned to sustainable levels.
"Mono Lake was at the forefront of realizing that if we don't manage water well and give the environment, and birds, and wildlife, and places that people like to recreate a seat at the table, you're not going to have a state that's where you want to live. You're going to have a lot of ecological problems, air quality problems and all the things as well," said Geoff McQuilkin, executive director of the Mono Lake Committee.
Public interest in the health of the Great Salt Lake is rising in Utah and local experts hope that interest translates to action.
"We are at the tipping point for this ecosystem," said Bonnie Baxter, director of the Great Salt Lake Institute. "We've got to turn this around quickly."
Those who know the work it's taken to solve the problems at our sister salty lakes in California say we have to do something before it's too late.
"Knowing and experiencing the challenges of something that has got to the point as Owens, I would do anything within me to try to ensure that it didn't happen elsewhere," Kiddoo said.
But Kiddoo also pointed to one major benefit we have over Owens Lake.
"The good news for Great Salt Lake is that there's still a lake," he said. "Not all is lost."