WEST JORDAN — This year's record snowpack has drastically reduced a drought that really began to impact Utah by the end of spring three years ago.
The U.S. Drought Monitor currently lists about 20% of the state in either a moderate or severe drought, while the rest is either "abnormally dry" or under no drought-related designation. It's a significant turnaround from when nearly 90% of Utah was experiencing severe drought or worse in October.
But as he stood on the grounds of the Conservation Garden Park on Monday, Utah Gov. Spencer Cox pointed out that an "unbelievable" winter is only "one piece of the puzzle" when it comes to thinking about long-term water solutions in the country's second-driest state.
"In Utah ... we're either in drought or preparing for the next one," he said. "We need to take action to ensure that we are always prepared."
That's why Utah is launching a new, first-of-its-kind statewide incentive program, which helps Utah residents recover some of the costs of replacing turf grass, so residents can better afford less-thirsty landscape alternatives. The Utah Legislature allocated $5 million in one-time funds and $3 million more in ongoing funds during this year's legislative session to kickstart the program.
The state program is through Utah Water Savers, originally founded by the Jordan Valley Water Conservancy District in 2017. Utahns living in areas that have adopted new water efficiency standards for new construction can apply online to receive up to $3 per square foot of grass they replace with water-efficient landscaping through the new program.
Cox explained that only cities taking a "proactive" approach to future development qualify for the turf grass program, so the state is not paying for buybacks in areas that still have certain grass requirements. A list of eligible municipalities can be found here.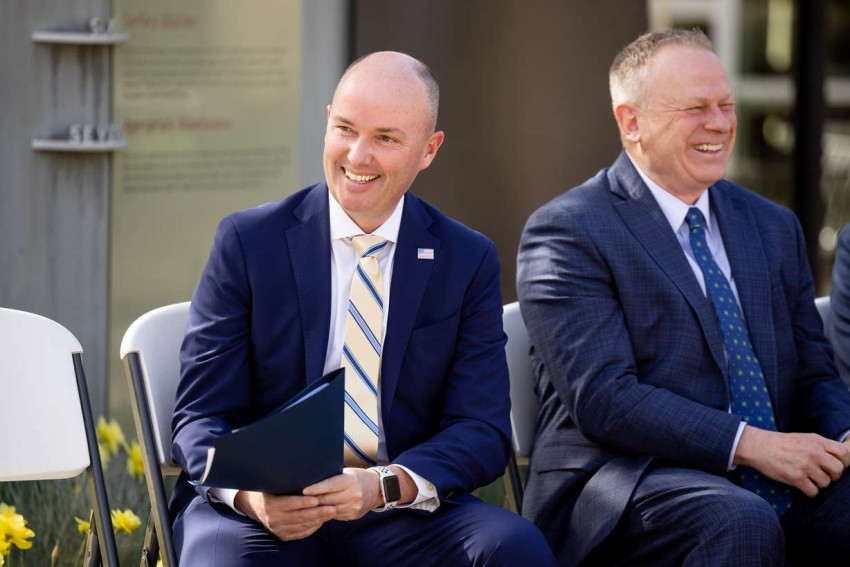 Gov. Spencer Cox and Rep. Doug Owens, D-Millcreek, laugh during a press conference at the Jordan Valley Water Conservancy District's Conservation Garden Park in West Jordan on Monday. Officials announced a statewide water-wise landscaping incentive program to encourage residents to replace grass with water-efficient landscaping (Photo: Spenser Heaps, Deseret News)
The Central Utah, Jordan Valley, Washington County and Weber Basin water conservancy districts will also match the buyback offered by the state. State officials note that replacing turf grass varies from yard to yard but it typically costs under $5 per square foot if they do it themselves, though the cost is steeper if they hire a contractor.
Projects replacing grass for a full xeriscape or even a partial Localscape can qualify for the incentive, said Cynthia Bee, a spokeswoman for the Jordan Valley Water Conservancy District, who spoke about the new program on an episode of KSL NewsRadio's "Dave and Dujanovic" last week.
However, there are some other guidelines to qualify.
A project can't include grass in park strips or areas less than 8 feet in width within new developments.
No more than 50% of the front and side yard landscaped area in new residential developments can be lawn. This limitation does not apply to residential lots that have less than 250 square feet of landscaped area.
Lawn areas can't exceed 20% of the total landscaped area in new commercial, industrial, institutional or multifamily development common area landscapes — outside of any recreation areas.
The state also unveiled a new public awareness advertisement campaign called "Grass Doesn't Belong Everywhere," which will appear on billboards, social media spots and other mediums across the state, as it begins to find ways to reduce future water waste.
Outdoor irrigation accounts for about 60% of all residential water use, according to the Utah Division of Water Resources. Its officials say that cutting back by one lawn watering can save about 3,000 gallons of water, for residents who live on the average quarter-acre lot yard with about 0.17 acres of green space.
Rep. Doug Owens, D-Millcreek, who also helped craft the program, notes that the point of the program is to reduce the amount of water used on ornamental lawns because it's not really helping anyone to have the traditional landscape.
"When you water your yards, 100% of that water gets depleted, so we've got to be smarter about how we landscape in our state going forward," he said.
Utah's new turf grass program doesn't mean Utah will begin to have lots of dirt and stone landscapes like Las Vegas, he added. It's one of the reasons why there are still vegetation requirements in place. In fact, state officials intentionally chose to announce the program at Conservation Garden Park because it showcases beautiful and innovative landscapes that don't use as much water as turf grass.
Monday's announcement follows several efforts made by state and local officials when it comes to watering lawns, including programs aimed at replacing park strips outside of homes and businesses.
It also builds on other efforts to reduce water consumption, Cox said. For instance, the Legislature also added $200 million to the state's agriculture optimization program, which helps farmers and ranchers afford changes that reduce how much water they consume. It's estimated that agricultural irrigation accounts for between 75% and 85% of all Utah's water consumption.
The governor also said that other investments are going toward technologies that help capture water during years of abundance so it can be used during times of scarcity so that the state doesn't "squander" a year like this one. That includes water banking and groundwater recharge projects, on top of incentives to cut back on outdoor irrigation.
Utahns should continue to find ways to continue to conserve after billions of gallons were saved over the past two years, Cox added.
"Water conservation across all sectors is critical," he said. "With the demand for water increasing across the state, we need to find ways to use water more efficiently and to reduce waste. ... We desperately want this to be a place where our kids and grandkids can live, and the only way we're going to be able to do that is if we're smarter about the way we're using water."