TREMONTON, Utah — Jaemye and Bryan Brandon are getting ready for the holidays. String lights are transforming their picturesque farm into something straight out of a Hallmark holiday movie.
But the transformation goes beyond decor. The couple is slowly removing their alfalfa crop to make way for Christmas trees and flowers on the land they've dubbed "Once Upon a Christmas Tree Farm."
"I've always had the dream of owning a Christmas tree farm," Jaeyme Brandon said. "Eventually, there won't be any alfalfa on this property."
The couple, who moved to Utah from Tennessee, are making the transition with the help of $49,000 from the state of Utah, granted on the condition that they save water. Since they bought the farm last year, they ceased watering their alfalfa. A neighbor takes a cut of the hay as the Brandons transition to selling trees in the winter and fresh-cut flowers in the summer.
Utah has doled out $65 million on projects like this since 2020, through the Utah Department of Agriculture and Food's Agricultural Water Optimization Program. The program is funded by the state with the help of federal American Rescue Plan funds authorized to help with coronavirus fiscal recovery.
The goal is to help farmers and ranchers like the Brandons pay for major equipment overhauls that can reduce their water use, helping them become more drought-resistant and protecting surface and groundwater quality by not overwatering crops.
The program provides half the cost a farmer would have to pay to implement their water-saving projects such as replacing flood irrigation systems, piping canals, switching to drip irrigation, adding water metering or ripping out thirsty crops in favor of ones that require less water. Farmers are required to cover the rest of a project's cost, though they can receive other funds to do this.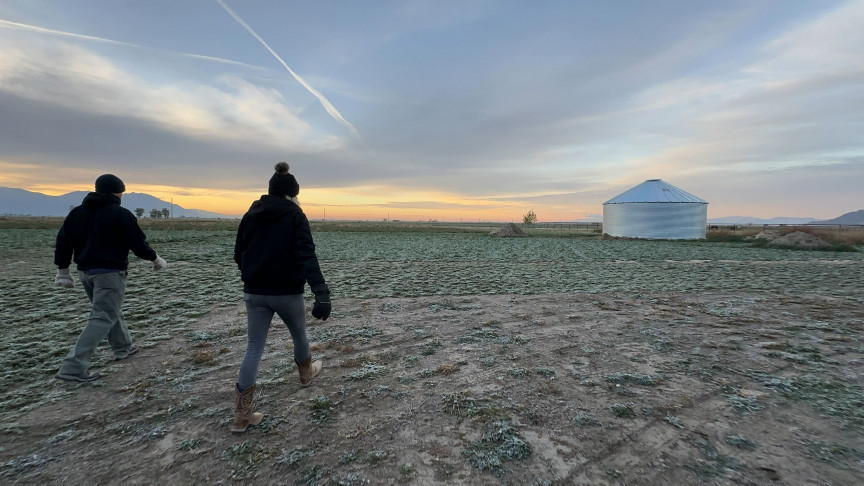 Bryan and Jaemye Brandon, the owners of Once Upon a Christmas Tree Farm, on their property near Tremonton. The couple used a $49,000 agriculture optimization grant offered by the state to purchase a new water tank for their drip irrigation system as they convert their farmfrom growing alfalfa to Christmas trees. (Ben Winslow, FOX 13 News)
A total of 335 projects have received funding. It's hard to know yet how much water they will save. Some of the projects include the projected amount of acre-feet expected to be saved. But in some years that data wasn't required. For the projects that include data, it shows an estimated 143,000 acre-feet of water could be saved without cutting a farmer's crop yields. Statewide, agriculture uses 3.7 million acre-feet of water a year, according to Hannah Freeze, the optimization program manager.
The number of funded projects reflects a fraction of the interest. Freeze said the department receives 300 to 400 applications every funding cycle. She added that there's another $200 million yet to be spent, which may become available for another round of applications next month.
"Water conservation is important in the state of Utah because it's been such a big issue. We've had the drought and problems with the Great Salt Lake. The ag water optimization program allows us in the agricultural industry to come to the table," she said. "We know that we're a huge water user."
Ag optimization and the Great Salt Lake
The program is also touted as a way to help save the Great Salt Lake. The lake fell to its lowest level ever recorded in 2022 and remains below its historical average size, exposing its lakebed that poses all sorts of environmental hazards and concerns for the region surrounding it.
Water diversions and overconsumption are considered major players in its decline, including agricultural water use. It accounts for two-thirds of the lake's diverted upstream water, according to the Utah Department of Natural Resources.
The Great Salt Lake Collaborative sought records on all the projects funded through the program from 2020 through spring 2023. The grants, ranging from $1,000 to $500,000, have gone to farmers, canal companies and irrigation companies across the state. The grants are capped at $500,000 per funding cycle. Companies have received more over the life of the grant program.
About half of them fall within the Great Salt Lake watershed, according to the database. It's difficult to say exactly because the projects are listed by county and some counties fall into more than one watershed.
However, it's not clear how much water is actually being saved or if the program is helping the lake so far. All projects in the database list a percentage of water saved while others also list concrete estimates of water saved. Not all projects have gone online, and some that received funding were ultimately scrapped, according to state officials.
"We don't have really solid hard numbers on what we've saved," Freeze said. "We're excited to work with the (Utah) Division of Water Rights to see what the numbers actually are."
Yet many of the farmers who have joined the program say it was something they had to do to adapt to the changing water availability. The Beehive State and the West are dealing with more and more drought years in recent decades and those threats aren't expected to lessen — threatening farmers' livelihood.
Freeze points out that several farmers within the Great Salt Lake Basin have even expressed a desire to change their water ways specifically because of the lake's decline. Because they must pay for half of the optimization project, they're "coming to the table with sometimes hundreds of thousands of dollars and saying, 'We know we need to be a part of this solution and help find solutions for the Great Salt Lake.'"
Trevor Nielson, general manager of the Bear River Canal Co., which has received $2 million to improve its irrigation system, is among that group.
"We understand politically that we need to improve," he said.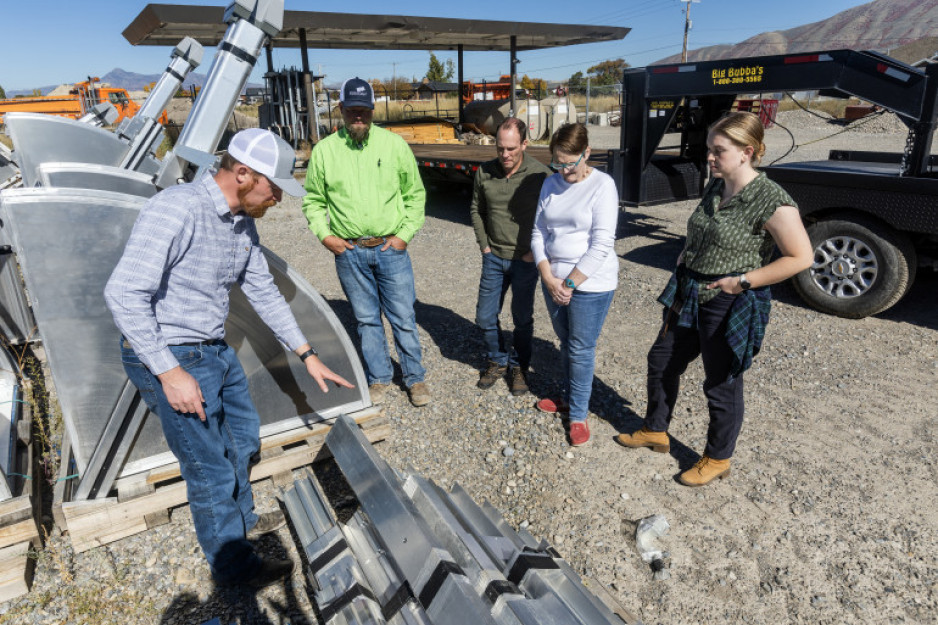 Trevor Nielson of the Bear River Canal Co. talks about the new high tech gates and equipment with water officials during a tour of various canal sites in Box Elder County Thursday, October 19, 2023. Photos by Brian Nicholson, Special to the Standard-Examiner.
The agriculture community turns to optimization
Laurie Eccleston and her family had the Great Salt Lake in mind when they were approved for a $60,000 grant to help them turn a 10-acre parcel of land on the west side of Layton into a drip-irrigation produce farm, called the Motta Family Farm. The system could be installed next spring with the help of additional federal grants.
Eccleston's father and uncle, Dominick and Ambrose Motta, farmed 90 acres of land until 2014 using the more common though less-conservation-friendly flood irrigation system. After they died, their children seized on the idea of preserving farming in the growing area via the drip-irrigation method, which delivers water directly to plants.
"You're not watering an entire field. You're just watering individual plants," Eccleston said.
Larger projects, she adds, "will likely make good headway" in returning water to the Great Salt Lake. Water that might otherwise be used for the farming operation will flow into the Great Salt Lake Shorelands Preserve just to the west of the farm and to the lake from there.
She knows her amount saved is too small to save the lake, but at the same time she contends that "every bit helps."
The Bear River Canal Co. in Box Elder County has tapped into the program on a much bigger scale. Utah's largest irrigation company, Bear River Canal has received the largest amount of optimization funds at $2 million.
Funds have been used to line canals or enclose them, reducing evaporation and percolation, and to automate gates along the system, resulting in more efficient, accurate and pinpointed water flow, said general manager Nielson. That means farmers and other canal company customers are better positioned to get the water they need — no more, no less — and less water is wasted.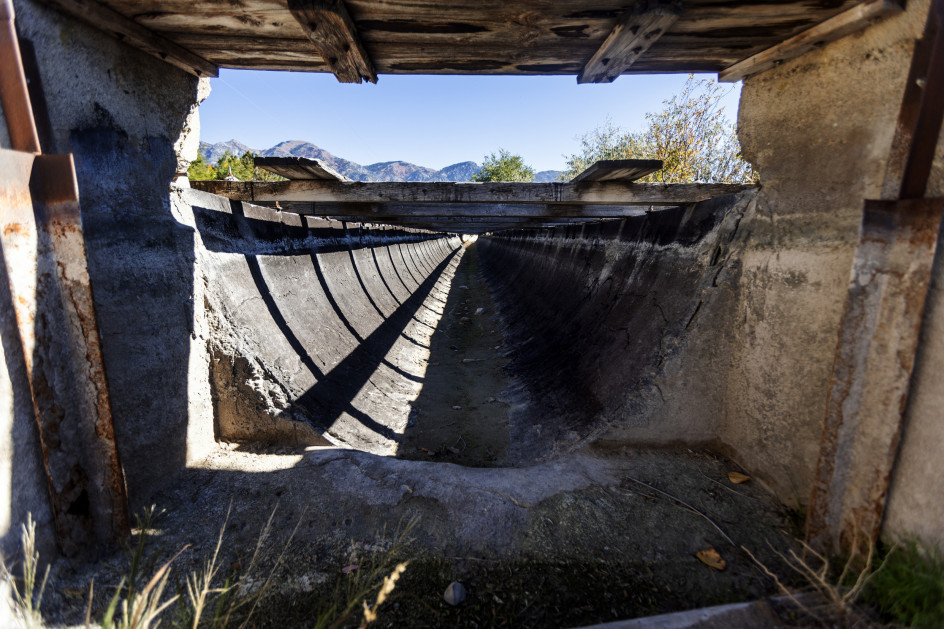 An old aqueduct of the Bear River Canal Co., that has been replaced by a new one sits dry on one portion of the system in Box Elder County Thursday, October 19, 2023. Photos by Brian Nicholson, Special to the Standard-Examiner.
The grant database projects the canal company will save at least 8,800 acre-feet of water per year. Nielsen said more water that used to inefficiently wind its way through the canal system is making it to the Great Salt Lake. But like other farmers who use the grants, he couldn't point to data proving it — yet.
He adds that advances are being made in tracking water flows, noting that five of the six Bear River Canal projects partially funded by the state program have exceeded water savings expectations.
The state program has impacted just a fraction of the company's 126-mile network so far, a portion of a 12-mile canal. Nielsen estimates $100 million would be needed to upgrade the entire system.
"It's an elephant. I'm eating it one bit at a time," he said.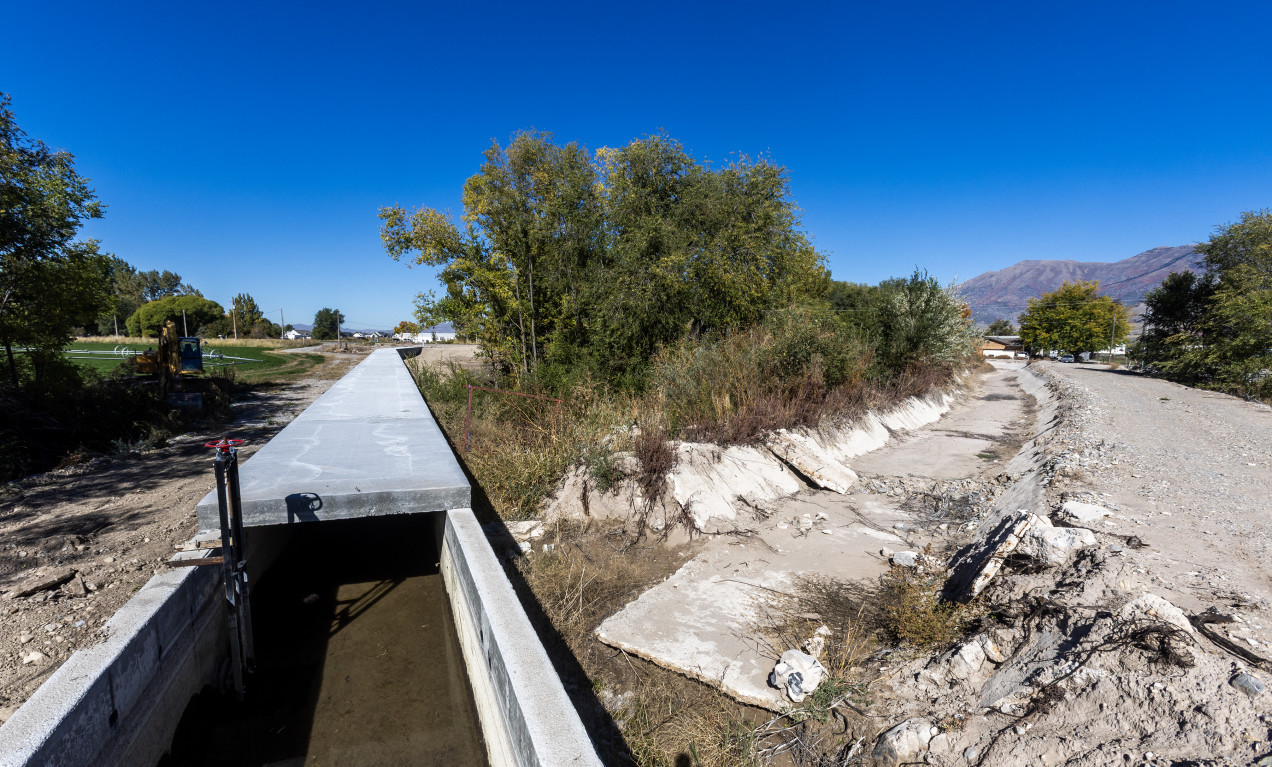 Newer, high tech canals of the Bear River Canal Co., (left), are replacing older canals (right), in an effort to conserve more water and decrease evaporation. This new system is shown near Corinne in Box Elder County Thursday, October 19, 2023. Photos by Brian Nicholson, Special to the Standard-Examiner.
At the Christmas tree farm, the Brandons have already installed a drip irrigation system, which uses a lot less water than traditional agricultural sprinkler systems or flood irrigation. They used their state grant to pay for a tank to store water for the new irrigation method.
Once Upon a Christmas Tree Farm started selling fresh-cut flowers this past summer and it proved a hit with people wanting photo shoots among the fields of bright colors. The Christmas trees will take a little longer to get going. The company will sell pre-cut holiday trees on their property starting Nov. 24, offering a place for people to also enjoy cups of cocoa and some good old-fashioned Southern cooking.
They will have to track their water use and report back to the state over the next three years how they're doing. They encouraged other farmers to consider applying for the grants.
"I know exactly — based on how long I water — how much water is actually going to that tree," Bryan Brandon said, "And drip irrigation is in the (90%)-plus efficiency for water. Because the water's going right to your plant. So we're not watering any alfalfa or any weeds."
Protecting the future of farming
Eccleston said the Utah Agricultural Water Optimization Program "has really changed the financial calculus of our entire endeavor," which is helping the Motta Family Farm "invest more in our infrastructure and our farmers."
What's more, they wanted to preserve open space amid the go-go growth of Davis County. They are creating an "agrihood" by converting 25 acres of the original farmland into housing whose residents will benefit from the new produce being grown with the drip irrigation.
The development could help the environment by reducing the long hauls otherwise necessary to bring in produce from more far-flung areas. Local farmers will be recruited to cultivate the land, she said.
"It would be a gift to the community and more so, a gift to young farmers," Eccleston said.
That falls within some of the program's goals, too. Freeze said she hopes the optimization program will make farming sustainable and profitable enough to keep people farming for decades to come.
"Our farmers are here to stay," she said. "They want to be able to … pass it onto the next generation, so we can have viable agriculture into the future."