The rotunda west steps were crowded Thursday morning. Members from various faith communities held signs reading "defend our future." Front and center, a red and blue banner: "Save Our Great Salt Lake."
Rev. Monica Dobbins stood at the podium, representing Utah's Unitarian Universalist congregations. She spoke of the principles that guide her community's spiritual practices; among them, justice, equity and respect.
"In consideration of these principles, it is clear that the ecological crisis facing Great Salt Lake is also a crisis of faith," she said. "Our principles of justice and equity require action to protect people by using water more wisely and with more gratitude."
Dobbins' voice wasn't the only one echoing the sentiment. The interfaith press conference featured spiritual leaders spanning several perspectives, but the message was unified: legislators need to take action this session to protect the lake.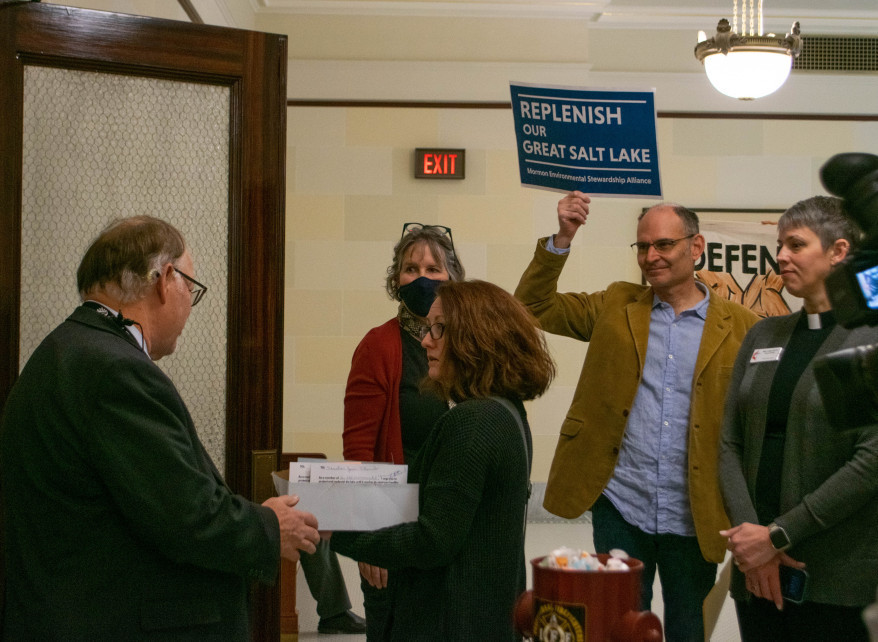 Rev. Monica Dobbins delivers postcards to the office of the House of Representatives. The postcards come from several faith-based communities and call on legislators to take immediate action to save the Great Salt Lake. Photo by Alexis Perno, Great Salt Lake Collaborative.
"There's so many different streams that come in to make the Great Salt Lake, and to see all these different people from different streams of faith coming together, it's just a really beautiful thing that we can work together on something that really does impact all of us," Pastor AJ Bush said in an interview.
Bush, representing First United Methodist Church and Centenary United Methodist Church, also spoke during the conference. She introduced the hundreds of postcards gathered from various faith members, of which were then delivered directly to the offices of the Senate and House of Representatives.
While the event took place Thursday morning, the beginnings were rooted in conversations held in December at the People's Great Salt Lake Summit. Deeda Seed, the Public Lands Senior Campaigner for the Center for Biological Diversity, organized the conference after leaders wanted to do more.
"The theme of interfaith collective action became really important," Seed said. "Faith leaders, and members of the faith community, are very good at expressing and inspiring hope, and also [conveying] urgency."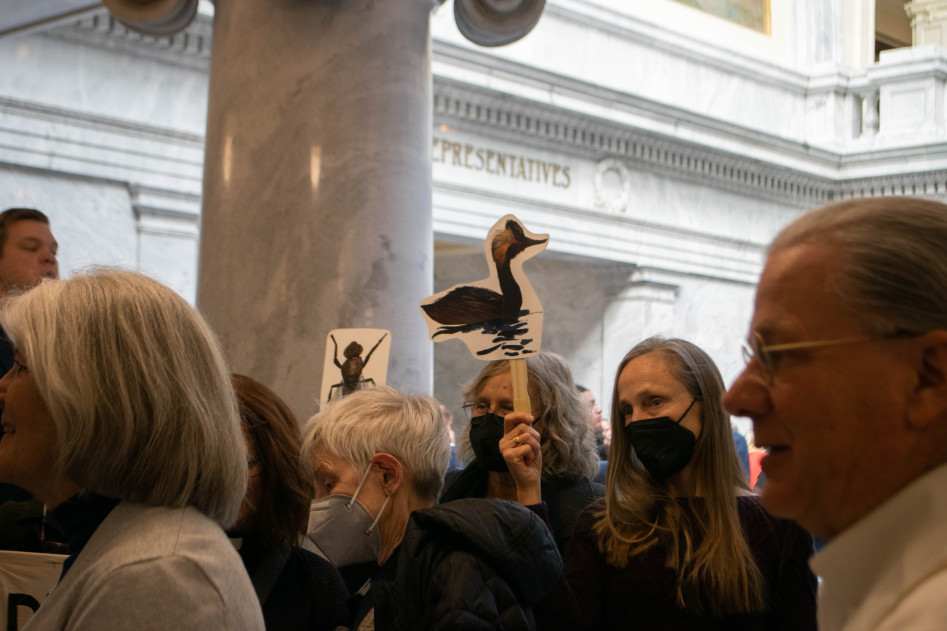 Crowded outside the offices of the House of Representatives, a supporter raises art of waterfowl as leaders deliver postcards calling for legislation. Birds are among the many species already affected by the Great Salt Lake's decline. Photo by Alexis Perno, Great Salt Lake Collaborative.
Faith communities and hope are necessary when it comes to solving this issue according to Brigham Young University Professor of Ecology Ben Abbott, who described the consequences of inaction as "genuinely biblical."
"One of the poisons that can stop us from acting on these issues is despair and fear," Abbott said in an interview. "When we move from fear to hope and action, that is incredibly rejuvenating, and that's what we need right now because Great Salt Lake is just one symptom of a deeper problem — of people feeling disconnected from one another and from the environment."
Rios Pacheco, a spiritual leader for the Northwestern Band of the Shoshone Nation, touched on how Shoshone spiritual practices heal this disconnect. He was the first speaker in the conference — something especially notable after the lack of indigenous inclusion across GSL advisory boards.
"Our people respect the water," Pacheco said. "Each time we go to the water, we respect it by giving an offering to thank our Creator for giving us this life."
As a Creation Justice Church, Rev. Chelsea Page from Holladay United Church of Christ echoed this dedication to respect, saying that protective stewardship preserves spiritual and physical wellbeing.
"Jesus' second greatest commandment was to love our neighbors as ourselves," Page said. "Our neighbors include the millions of birds and other creatures who critically depend on Great Salt Lake for their survival, as well as all the people who inhabit the Salt Lake Valley area."
Rachael Lauritzen, Board Chair of the Mormon Environmental Stewardship Alliance, quoted Elder Steven Snow, a general authority in the Church of Jesus Christ of Latter-day Saints and an official church historian, in her organization's statements. "It's our responsibility as stewards to do what we can to limit the damage done to God's creation," she quoted him as saying.
"We echo this call to action and add our passionate plea that we not only limit our harm, but also protect what we still have and repair the damage we have done," Lauritzen said. "Let us not trade our birthright for a mess of pottage, but go forth as wise stewards of all that we have been given and benefited by, for the welfare of all."
The news conference is just the beginning for this group. Seed says that she's looking into organizing faith communities to meet directly with lawmakers to discuss solutions. While the group is concerned there won't be enough immediate action taken this session, Seed is inspired by the interfaith community coming together to address the issue.